Risultati della ricerca per
valletta
1983-'84 season proved a fantastic start for Valletta F.C. They won the second edition of the Euro Challenge Cup, a competition between the three local teams participating in European competitions that season.

Valletta FC beat Rabat Ajax 2-0 and were held in a draw against Hamrun Spartans 1-1. Even though Hamrun Spartans were favourites to retain the championship for the second season, at the end Valletta FC were crowned champions for the twelfth time in their football history.
Under the guidance of coach Joe Cilia, Valletta FC won ten points from seven matches and continued by winning the championship pool after beating Hamrun Spartans 1-0 in a decisive match.
After this success, it seemed that the Lilywhites were having a long break and after six seasons they were crowned champions once more.
Jesmond Zerafa, born on August 3, 1965. Zerafa is a product of the Valletta FC Nursery and was introduced in the premier League in season 1982-'83.
In season 1984-'85, Zerafa joined Tarxien Rainbows, he returned with Valletta FC in season 1986-'87. He had a fabulous season and scored an important goal against champions Rabat Ajax and managed to break the champions unbeaten record.

During season 1986-'87, he became an automatic choice in the Citizens squad and was also included in the squad that played against Juventus FC in the Uefa Cup. Jesmond also had several appearances with the National team.
Jesmond ended his football career with Birkirkara Luxol in season 1996-'97. He started a coaching career in the Valletta FC Nursery and coached the Under 18 section. The following year he was appointed as assistant coach with Bulgarian coach Krasimir Manolov. That season was one that Jesmond never forgets, Valletta won the six honours in the Maltese local football.
In season 2001-'02, Zerafa joined Tarxien Rainbows and managed to win promotion to the First Division. In the following season he missed the Promotion to the Premier League and in season 2003-'04 he won the First Division Knock-Out with Tarxien Rainbows.
Jesmond Zerafa joined Qormi FC in the summer of 2007 and was appointed team manager. During his first year with Qormi, he won the promotion to the Premier Division and succeeded in keeping the team in the Premier Division. In the following season Qormi kept their place in the Premier league, reached the final of the U*Bet FA Trophy and played against Sliema Wanderers in a decider to book a place in the Europa League.
In May 2010, Jesmond Zerafa joined Valletta FC after his contract with Qormi FC had expired.
Small and slender with a pair of spindly legs that would not last the postman one morning – this is how one may well describe the physique of Joe Zarb. Yet, he was one of the greatest goal-scorers. His 140 goals in 281 league matches is a record few Maltese players could equal.

Joe Zarb was league top scorers four times, three of them in succession. He also won 24 major honours in a career spanning over 21 season, which make him one of the most honoured players in candidate for the greatest Maltese goal-scorer of all time.
Although born and bred in Zabbar, Joe never played for his home-town club. It seems he had a lot of friends from Cospicua and these encouraged hin to join Cospicua St Joseph's. This amateur team did not play in any league but restricted its activities to playing friendly Sunday morning football.
It was while playing in one of these matches that Joe was spotted by Peppi Delceppo. The St George's mentor did not lose the opportunity of adding Zarb to his brood of youngsters.
Joe Zarb joind St George's FC in 1980-'81 and he made his first-team debut late in the season as a substitute for Charlie Cassar. His advance was slow and in the following two seasons he only played once more for the first team and that was as a substitute.
In 1983-'84, he was given an extended run in the first team that produced the first four goals of his career. Peppi Delceppo never stopped believing in Zarb's talent. Despite Joe's slender frame, Peppi saw in the lad an extraordinary ability to score goals. Peppi was not the only one to recognise Joe's potential and at the start of the 1984-'85 season Hamrun Spartans made a successful bid for his transfer.
The move to Hamrun was the turning point in Zarb's career. Before long he was hitting in the goals with a regular rhythm. Yet, despite winning two championship medals with Hamrun, the Spartans surprisingly let him slip through their fingers. Perhaps they did not fully realise his potential or, maybe, the reason might have been the fact that they had another prolific goal-scorer in Stefan Sultana in their ranks. Whatever the reason, midway through the 1987-'88 season, they accepted Valletta's offer for his signature.
That season Zarb was involved in a curious and unique record. In a campaign consisting of 14 games, he played 15 times! Joe played in the Spartans' first seven games of the season before he was transferred to Valletta with whom he played in the last eight games. Hamrun went on to win the championship; therefore, he qualified for a championship medal when he was playing for Valletta!
Joe stayed with Valletta up to the end of the 1998-'99 season forming part of the all-conquering City edition that dominated Maltese football in the 1990s. Then a serious eye injury cost him his place in the first team. Over time, he recovered from the injury but the following season he was transferred to Gozo FC who had just been promoted for the first time to the Premier Division.
Joe passed an uneventful season with Gozo. It was the only season in his career in which he did not score a single goal. At the end of the season, he joined Zurrieq FC in the First Division. For Zarb it was anothet mediocre season and when Zurrieq were relegated he decided to retire.
He had only two regrets in his career. The first was his failure to win the Footballer of the Year award and the other was the way he was continually passed over by the national team selectors. Just 10 full caps are a meagre reward for a goal-scorer of his calibre, especially when one compares his record with that of other international strikers whose number of international appearances are three or four times that number.
Joe 'Brimba' Zarb left behind him memories of an honest and dedicated footballer. Above all, he was a prolific goal-scorer – a lesson to those who think that to succeed in football one must be big and brawny.
Born on March 23, 1967, Kris started his career in 1983 with Luxol St Andrew's in the Third Division. Although still 16, he immediately commanded a place in the first team and his obvious potential was already attracting the attention of the Premier League clubs. Valletta were the first to make a bid for his signature and at the start of the 1985-'86 season he joined the City club on loan.

Kristian Laferla had a quite a good season with Valletta. In 1986-'87, he returned to St Andrew's but after playing three games in the Third Division he returned to Valletta FC on a permanent basis. He settled down immediately in his new surroundings and after a short while he became one of the mainstays of the City team.
The nineties were the greatest period in the history of Valletta FC. The Citizens' domination of Maltese football was so complete that they eclipsed the achievements of the traditional leaders of Maltese football, Sliema and Floriana.
During his stay with the club, Laferla won an incredible total of 25 major honours and only injuries prevented him from winning a handful of others, this makes him one of the most honoured players in the history of the game. Laferla, however has had one big disappointment …. for some reason or another, he never won the MFA Footballer of the Year award.
This prestigious individual award depends, to some extent, on circumstances which have nothing to do with the performance of the players concerned. Luck is also a factor.
Sometimes it happens that a player enjoys his best season at a time when competing for that award is very intense. On the other hand a player can also land the honour despite not achieving excellence simply because the level of performances that season was generally below standard.
Laferla played his first game for Malta on November 14, 1986 in the European Championship against Sweden and played his last game against Latvia in 1998. In between, he played 65 times for his country and scored six goals. This is an excellent total for a midfielder, especially for a small country like Malta where positive results are rare.
During the Christmas period of 2002, Laferla was transferred to Sliema Wanderers. This certainly came as a surprise for the City faithful. He made his debut with the Blues on January 19th against Marsa (5-0). With Sliema Wanderers Laferla won two Championships and also the FA Trophy against Marsaxlokk in May 2004. Laferla played a total of 50 games with the Wanderers before retiring at the end of season 2004-'05.
After 17 eventful season, Laferla had become very much part of the City set-up and it was hard to imagine the team without him.
Time was very kind and gentle with Laferla. Despite being well in his 30s, he remained fit and although at the age he should have been thinking of retirement, he still contributed significantly to the Blues' success.
By the time he head decided to retire, Laferla had already carved a niche for himself as one of the great players of the Maltese football.
by Mario Bocchio
Non si può certo dire che sia un esordio fortunato per il 2008 della Juventus. Nell'amichevole compresa nel programma del mini-ritiro invernale contro il Valletta di Malta arriva una sconfitta ai rigori dopo una brutta partita terminata sull'1 a 1. Si tratta solo di un'amichevole, di "un allenamento", ovvio, ma la sfida di sabato contro il Catania al Massimino è vicinissima e qualche preoccupazione per i tifosi bianconeri è legittima.
Ranieri manda in campo 2 formazioni diverse per 9/11esimi fra il primo e il secondo tempo con le eccezioni di Grygera e Marchionni (con tutta probabilità destinati alla panchina sabato), ma nessuno dei giocatori mandati in campo mostra di avere grandi motivazioni e apparentemente una forma scintillante a sostenerli. Nel primo tempo Del Piero compone una coppia d'attacco con Ruben Olivera, l'uruguagio recalcitante a partire per Genova seguendo le orme di Criscito, a centrocampo Zanetti insieme ad un altro probabile partente per Monaco, almeno nelle intenzioni della società: Sergio Bernardo Almiron.
Proprio l'argentino è una delle note più stonate della brutta serata juventina. Nervoso, lento ed inconcludente e sul punto di scatenare una rissa con il capitano de La Valletta per futili motivi. Inguardabile. I giocatori (semi-professionisti) della squadra campione di Malta ce la mettono tutta e puntano a fare bella figura, ma con il passare del minuti sembrano più increduli che altro di fronte alla difficoltà della Juventus di sfondare.
Il vantaggio firmato proprio da Olivera in prossimità del fischio finale del primo tempo potrebbe essere il viatico per una vittoria in scioltezza, ma dopo nemmeno due minuti La Valletta pareggia con il gol di Molesterolo propiziato da una mezza papera di Birindelli e Buffon.
La Juve 2 che entra in campo nel secondo tempo con Trezeguet e Iaquinta in attacco supportati da Nocerino e Tiago dovrebbe ristabilire i valori in campo, ma nessuno dei pericoli costruiti dai bianconeri si tramuta in gol e La Valletta avrebbe avuto anche le sue buone chance per portarsi in vantaggio dopo azioni di contropiede.
Al fischio finale il risultato è ancora inchiodato sull'1 a 1, ma la formula del "Trofeo Bet Fair" (alla sua prima edizione) contempla l'obbligo di arrivare ad un vincitore e nella lotteria dei rigori con il portiere di riserva Belardi in campo i Maltesi prevalgono 5-4 grazie agli errori di Nocerino e Legrottaglie dal dischetto.
In campo si rivede anche Boumsong dopo il lungo infortunio, la prestazione non dice molto sulle sue condizioni, ma il risultato non è certamente una buona "pubblicità" vista la volontà di Alessio Secco e Jean Claude Blanc di disfarsene nel mercato di gennaio.
servizio a cura di Mario Bocchio
Si è appena conclusa la stagione delle coppe, con il successo del Bayern sul Borussia e la vittoria del Chelsea in Europa League. Ma è già tempo per andare a vedere come si comporranno le due competizioni continentali nella prossima stagione.
CHAMPIONS LEAGUE 2013-2014
Ventidue squadre già ai gironi: le altre dieci usciranno dai playoff che si giocheranno ad agosto. Cinque squadre sono già al loro posto per quella che è l'ultima fase eliminatoria (Milan, Arsenal, Schalke, Pacos de Ferreira e molto probabilmente il Valencia). Le altre quindici usciranno dalla lunga lista di incontri preliminari, che per qualcuno iniziano addirittura a luglio. La presenza del Pacos de Ferreira è la sorpresa più grande: la squadra portoghese si è piazzata terza al termine di un campionato al di sopra di ogni aspettativa. Lo stadio di poco più di cinquelmila posti non è assolutamente pronto ad ospitare la Champions, ma Os Castores non vogliono fermarsi proprio sul più bello. Chi viene eliminato dal playoff di Champions finisce in Europa League. La finale si giocherà allo stadio Da Luz di Lisbona.
Qualificate alla fase a gironi: Juventus (Ita), Napoli (Ita), Barcellona (Spa), Real Madrid (Spa), Atletico Madrid (Spa), Manchester United (Ing), Manchester City (Ing), Chelsea (Ing), Paris Saint-Germain (Fra), Marsiglia (Fra), Bayern Monaco (Ger), Borussia Dortmund (Ger), Bayer Leverkusen (Ger), Porto (Por), Benfica (Por), Ajax (Ola), Shakhtar Donetsk (Ucr), Olympiacos (Gre), Galatasaray (Tur), Copenhagen (Dan), Cska Mosca (Rus), Anderlecht (Bel).
Playoff Champions League (20-21; 27-28 Agosto): Pacos de Ferreira (Por), Schalke 04 (Ger), Arsenal (Ing), Milan (Ita), la quarta classificata in Spagna (attualmente il Valencia).
Terzo turno preliminari di Champions League (30-31; 6-7 Luglio): Lione (Fra), Psv Eindhoven (Ola), Apoel (Cip), Zenit (Rus), Fenerbahce (Tur), Nordsiaelland (Dan), Zulte-Waregem (Bel), Metalist (Ucr), Austria Vienna (Aus), Red Bull Salisburgo, Basilea (Svi), altra squadra svizzera (Grassoppher o San Gallo), Paok (Gre).
Secondo turno preliminari di Champions League (16-17; 23-24 Luglio): Maccabi Tel Aviv (Isr), Sligo Rovers (Irl), FH (Isl), Celtic (Sco), Dinamo Zagabria (Cro), Steaua Bucarest (Rom), Bate Borisov (Bie), Cliftonville (Eir), Slovan Bratislava (Slovacchia), Gyor (Ung), Zeljeznicar (Bos), Maribor (Slo), Sheriff Tiraspol (Mol), Neftchi (Aze), Birkirkara (Mal), Vardar (Mac), Sutjeska (Montenegro), vincente campionato ceco (attualmente Viktoria Plzen in testa), Elfsborg (Sve), Molde (Nor), HJK (Fin), Dinamo Tbilisi (Geo), Ekranas (Lit), Daugava (Let), Shakhter Karagandy (Kaz), Skenderbeu (Alb), The New Saints (Gal), Nomme (Est).
Primo turno preliminari di Champions League (2-3; 9-10 Luglio): Shirak (Arm), EB/Streimur (Far), Lusitanos (And).
EUROPA LEAGUE 2013-2014
Qui la composizione della competizione è ancora in alto mare. Ci sono le certezze per quanto riguarda le squadre che hanno vinto le coppe nazionali, quello sì. Ad esempio la Lazio, che non dovrà affrontare nessun turno preliminare a differenza di Udinese (due turni) e Fiorentina (uno). La finale si giocherà allo Juventus Stadium di Torino.
Qualificate dirette in Europa League: Wigan (Ing), Lazio (Ita), Vitoria de Guimaraes (Por), Anzhi (Rus)
Playoff di Europa League (22-29 Agosto): Totthenam (Ing), Friburgo (Ger), Fiorentina (Ita), Braga (Por), Az (Ola), Feyenoord (Ola), Dynamo Kiev (Ucr), Genk (Bel), Esbjerg (Dan),
Terzo turno preliminare di Europa League (1-8 Agosto): Swansea C. (Ing), Saint-Étienne (Fra), Udinese (Ita), Estoril (Por), Eintracht Francoforte (Ger), Vitesse (Ola), Dnipro (Ucr), Besiktas (Tur), Club Brugge (Bel), Randers (Dan), Hapoel Ramat (Isr), Jablonec (Rep.Cec).
Secondo turno preliminare di Europa League (18-25 Luglio): Metalurg Donetsk (Ucr), Bursaspor (Tur), Anorthosis (Cip), Lokomotiva (Cro), Jagodina (Ser), Omonia (Cip), Hapoel Tel Aviv (Isr), Strømsgodset (Nor), Honka (Fin), St. Johnstone (Sco), Legia Varsavia (Pol), Beroe Stara Zagora (Bul), Siroki (Bos), Maccabi Haifa (Isr), Motherwell (Sco), Shakhtyor Salihorsk (Bie), Häcken (Sve), Hødd (Nor), Derry City (Irl)
Primo turno preliminare di Europa League (4-11 Luglio): IBV (Isl), Vaduz (Lie), Kukësi (Alb), Airbus UK Broughton (Gal), Levadia Tallinn (Est), Flora Tallinn (Est), Narva Trans (Est), Crusaders (N.Irl), Glentoran (N.Irl), Linfield (N.Irl), Mika (Arm), Pyunik (Arm), Inter Turku (Fin), Tps (Fin), Dila Gori (Geo), Víkingur (Is.Far), IF (Is.Far), HB (Is.Far), FC Santa Coloma (And), La Fiorita (S.Mar), Zilina (Slovacchia), Dinamo Minsk (Bie), Malmo (Sve), Rosenborg (Nor), Zalgiris Vilnius (Lit), Sūduva Marijampolė (Lit), Skonto (Let), Ventspils (Let), Liepājas Metalurgs (Let), KR (Isl), Breiðablik (Isl), Torpedo Kutaisi (Geo), Sarajevo (Bos), Olimpia Lubiana (Slo), Kruoja Pakruojis (Lit), Dacia Chisinau (Mol), Tiraspol (Mol), Milsami Orhei (Mol), Drogheda United (Irl), St Patrick's Athletic (Irl), Astana (Kaz), Irtysh Pavlodar (Kaz), Aktobe (Kaz), Khazar Lankaran (Aze), Qarabag (Aze), Inter Baku (Aze), Laci (Alb), Teuta Durres (Alb), Hibernians (Mal), Valletta (Mal), Sliema Wanderers (Mal), Prestatyn Town (Gal), Bala Town (Gal), Jeunesse Esch (Lus), Gandzasar (Arm), Mariehamn (Fin), Gefle (Sve), Tromso (Sve).
(mbocchio)
Valletta 1973-'74. Left: Alfred Debono, Joe Borg, Norman Darmanin Demajo, Tony Ciantar, Eddie Vella, Vince Gauci. Squatting: Charles Galea, Charles Agius, Denis Fenech, Carlo Seychell, Tony Giglio
During 1974-'81, Valletta FC produced another winning formation. The popular Carlo Seychell and Vince 'Maxi' Magro were amongst the well known players of the time. With this squad Valletta FC won the championship, the FA trophy and the Independence Cup three times.
This success was the start-up for more wins in season 1973-'74 championship. Although they were held in a draw during the first match against Floriana and another two consecutive draws against Zebbug Rangers and Hamrun Spartans, Valletta FC succeeded in ending the first round without any defeats.
During the beginning of the second round a defeat against rivals Floriana seemed to doom Valletta FC's win. Nonetheless, Valletta FC soon got their vibe back and won the game. When Valletta FC lost against Sliema Wanderers there was a possibility of a decider, but a dramatic win against Hibernians, with a goal in the dying minutes of the match gave the Lilywhites the title after an absence of eleven years.
Three Cups in one season
In season 1974-'75, Valletta FC won three honours from five. They won the FA Trophy, the Independence Cup and the Sons of Malta Cup. On May 25, in front of a large crowd, Valletta FC faced Hibernians in the final of the FA Trophy. The Hibernians eliminated Floriana in the semi-final.
During the first half both set of players seemed nervous but during the second half the game became much more interesting. It was Valletta who scored the important goal when a shot by Carlo Seychell was partially saved by Freddie Mizzi and from the rebound the ball hit Norman Buttigieg and ended in the net.
In season 1976-'77 under the guidance of Italian coach Terenzio Polverini, Valletta FC started the season on a bad patch but nonetheless won the FA trophy for the fourth time without conceding a goal under the guidance of coach Lolly Debattista.
During the final of the FA Trophy Valletta FC faced rivals Floriana. It was a very exciting final with both teams proving their worth. Floriana were playing really well in the first half but Valletta FC piled the pressure on their opponents after Nardu Farrugia opened the score.
With this victory a series of 37 positive matches by Floriana came to a halt.
Carlo Seychell was born on March 12, 1949 in Pietà. He started his football career at the age of 14 with Valletta Vanguards from where he graduated to Valletta FC's junior strings. He made his first-team debut on October 1, 1967 as a substitute for Josie Urpani in the league match against Hibernians. This however, was an isolated appearance for the youngster and it was not until 1969-70 that he finally established himself in the first team. Seychell soon caught the critical eye of the City supporters and during that season he made six league appearances. He also scored his first goal for the Citizens in the secound round 1-0 victory over Hibs. He kept his place for for the FA Trophy, scoring two goals in the 5-0 victory over Gzira United in the quarter-finals. During the next few seasons, Seychell together with Vince Magro became the 'darling' of the City crowd. His spurts down the left wing electrified the crowd. 1973-'74 was the start of a great era for Valletta. Between 1973 and 1980 the Citizens won the league championship and the FA Trophy three times each. Although not a pure striker, Seychell scored 50 goals for Valletta in 177 league appearances. 1974-'75 was probably his best season, scoring nine league goals and finishing secound in the top scorers' list behind Ray Xuereb of Floriana. 1977-'78 was a glorious season for Valletta. Seychell played in all 18 league matches, leading the team to the league championship. His fine form continued in the FA Trophy. He notched a hat-trick in the quarter final against Msida St. Joseph's. He scored against Marsa in the semi-final and was instrumental in Valletta's 3-2 victory over arch-rivals Floriana in the final. Seychell now had the world at his feet and he continued to reign over the City clan up to 1982 when he was surprisingly transferred to Hamrun Spartans. Valletta's loss however proved to be Hamrun's gain. Seychell went on to win his fourth championship medal and help the Spartans to win their first championship in 38 years. Luck deserted him midway through the season. He suffered a serious injury which eventually forced him to retire from the game. Seychell had a distinguished international career. He played 22 times for Malta and 14 times for Valletta in European competitions.
Joe 'Pesu' Borg, born on May 19, 1949 in Valletta. He made his debut with the Citizens on November 12, 1966. He wore the white shirt for nine season, played in 86 matches and scored five goals. Through his career with Valletta Joe won the championship in (1973-'74), the FA Trophy (1974-'75), Sons of Malta Cup (1974-'75), Independance Cup (1968-'69). He took part in four European Competitions, twice in Champions Cup (1973-'74) against HJK Helsinki and twice in UEFA Cup (1972-'73) against Italian side Inter. Joe 'Pesu' Borg wore the National shirt three times, made his debut in the European Nations Cup on December 22, 1974 against West Germany. At the age of 14, Joe joined the Valletta Vanguards. At that time the Valletta Vanguards possed a number of players which formed part of the Valletta FC squad that won the 1973-'74 championship, the team cocnsited of Charles Agius, Tony Giglio, Vincet 'Maxi' Magro, Charles Galea, Joe Cassar, Tony Ciantar, Carlo Seychell, Emanuel Galea and others. These Vangaurds players were introduced with the Valletta FC minors team under the guidance of Eddie Xuereb. The first two players from this group who suceeded in joing the Citizens first team were Vince 'Maxi' Magro and Tony Giglio. Joe Borg made his debut with the first team in November 1966 in a league match against Hibernians. Joe retired from football at the age of 27, during his career he only played with the team of his hometown Valletta FC.
Vince 'Maxi' Magro born in Valletta on July 24, 1952. At an early age of 17 he was called to jin the senior squad and made his debut on February 17, 1970. Vince played 163 matches in 14 season and scored 43 goals. Vince Magro won several honours with Valletta, four Championships (1972-'73, 1977-'78, 1979-'80, 1983-'84) three FA Trophies (1974-'75, 1976-'77, 1977-'78) twice the Independence Cup (1974-'75, 1979-'80) twice Sons of Malta Cup (1974-'75, 1978-'79) and twice Testaferrata Cup (1979-'80). He played in thirteen European Competitions, six in the Champions Cup and three in the UEFA Cup. Vince alsp played for the National Team in the UEFA Amateur Championship 1973. He made his debut with the National Team on September 28, 1973, vs Canada 2-0. He scored two goals, the most famous goal against Greece (2-0) on February 23, 1975. During his first year with Citizens, Valletta FC won the Championship without no defeats. 'Maxi' Magro made his debut with Valletta FC on February 1970 in the match against Sliema Wanderes (0-1). Vince remained with Valletta untill 1983-84. He joined Luxol St. Andrew's in Third Division, he stayed there for three years untill he retired from Football.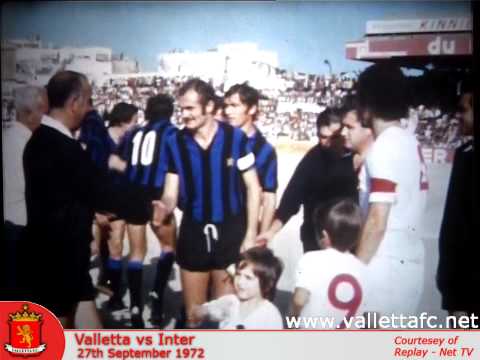 Valletta-Inter, 1972
article by Mario Bocchio (source Valletta Fc)
Valletta 1958-59. Left to right: Alfred Borg, Joseph Zammit, Josie. Urpani, Frankie. Zammit, Jackie Grech, Joe Cilia, Charles Mackay, Mario Azzopardi, John Darmanin, Tommy Taylor and Walter Bone
Many suggest that one of the best formations Valletta FC had was the one in seasons between 1958 and 63. During this time Valletta FC won the Championship three times, namely, the FA Trophy, the Cassar Cup and the Scicluna Cup.
The usual formation consisted of: Tommy Taylor, Walter Bone, Edwin Schembri, Charlie Mackay, Joe Cilia, Jackie Grech, Joe Zammit, Josie Urpani, Mario Azzopardi, Frankie Zammit and Alfred Borg.
Jock Gilmour was their trainer in season 1958-'59. Valletta FC had a great start but in the first round there were doubts about the potential of the team when they were held in a draw three times and also lost some matches. But the Valletta FC's strength came much later, when they won seven consecutive matches.
The triumph continued when the team won the Cassar Cup against Hamrun Spartans 2-1. Valletta FC nearly won the Triple Crown during the final of the FA Trophy. In the final of this competition the Lilywhites were winning 1-0 against Sliema Wanderers but in the dying minutes of the match Sammy Nicholl equalised for the Wanderers. After extra time the match ended in a draw result. During the replay Valletta FC started as favourites but a fortunate goal landed the FA Trophy to Sliema Wanderers.
The 1959-'60 season was a copy of the previous one. Valletta FC retained the title but this time they won the FA Trophy for the first time, but unfortunately they missed the Triple Crown losing the Cassar Cup.
During 1960-'61 season Hibernians managed to stop the Valletta FC's monopoly. Although Valletta lost the Championship and FA Trophy, they won the Scicluna Cup 3-1 and stopped the control that the Wanderers had on the Scicluna Cup.
This brilliant edition came to an end when Tommy Taylor returned to his country; Joe Cilia, Joe Zammit, Alfred Borg and Mario Azzopardi emigrated while Jackie Grech retired from football.
The Previous edition 1963-'65 which was made up of many famous players including Stivala, Carbonaro, Charlie Williams, Leonard Mizzi, brothers Vassallo, Chircop, Gauci, John Attard and others also won many honours.
This formation won the FA Trophy in season 1963-'64 against Sliema Wanderers 1-0 and the Scicluna Cup final against rivals Floriana 2-0 in the final. In 1965-'66 season, they won the Cassar Cup eliminating Sliema Wanderers in the final 3-1.
The success made by Valletta FC in the Cassar Cup continued in 1968-'69 season, they won the last edition of the Cup against Sliema Wanderes 2-1.
Joe Cilia began his football career as a teenager at Rabat F.C. who introduced him in the First Division in 1953-'54. He played 30 league matches for Rabat F.C. before joining Valletta F.C. in season 1956/57.
As a Citizen, Joe Cilia won all football honours, including twice the title of Footballer of the Year (1957-'58 and 1963-'64).
Joe Cilia's polished play earned him many international caps in the first years of international matches for Malta.
At the peak of his career, Joe Cilia emigrated to Australia, where he continued his playing activity as a player-coach to Melita Eagles (the Maltese team) and as a player with Sutherland and Corinthians (1964-1972). He joined Valletta F.C. in 1971-'72 for another two year spell.
During his 19-year career at top level football Joe Cilia was a keen student of the game and he was determined to put something back unto the game.
Joe won the Westin Dragonara Award in 2003 and Gieh ir-Rabat in 2004 in appreciation for his 48 years of continuous contribution to his only passion, which is football.
Joe Zammit (Ginger) had one of the shortest careers in the history of the Maltese football. Yet, in only five season he achievd much more than other less gifted footballers could carm in a lifetime. At 18, he had already won a league championship medal and he was already considered to be a good prospect for the full National XI.
Born in Lija on April 29, 1941, he started his career with Sliema Exters, which was founded in 1950. It was one of several junior teams formed in and around Sliema during that fabulous period in the history of the game.
Sliema Exters were a team from Gzira. They had their headquarters not far from Manoel Island Bridge but their founder, S. Pace was a keen supporter and he gave the team a Sliema name. The team had in its ranks a handful of promising youngsters. Centre-foward Alfred Pace, left back Vincent Relton and half-back Vincent Calleja come readily to mind but the boy whoe really made the grade in senior soccer was Ginger Joe Zammit.
Then ony 12, Zammit was no stranger to the Sliema supporters. They must have seen him many times trooping out of the dressing rooms with the team, immaculately dressed as the Wanderers` mascot.
At this age, Joe Zammit`s talent was already obvious and his amazing dribbling and strong shots were already being noted. His biggest ambition was that one day he would play for Sliema Wanderers.
Valletta 1960
Zammit certainly made the grade in first-class football but not with Sliema. He started with the Wanderes but he migrated to Valletta with whom he made his debut against Banik Ostrava on Christmas Day 1958. Joe scored the all-important goal in a 1-0 victory for the Citizens and from then on he retained his place in the team.
A touch-line hugging winger of the old style, Zammit soon became one of the best fowards in the game – at a time when football in Malta was blessed with some of the best fowards in the history of the game. His persistent good form earned him a place in the Malta Olympic XI squad and the full National XI for whom he played three times.
In 1958-'59 and 1959-'60, he won two consecutive championships with the Citizens. Then in 1960-'61, the one-time Sliema mascot really made it good for Valletta. In 1959-'60, he tied for the Footballer of the Year award with Louis Theobald of Hibernians and only a deciding vote gave the trophy to the Hibs` player. However, his brilliant form earned him the trophy the following season.
The sky seemed to be the limit for this fine player but then his career in Malta came suddenly to an end when he emigrated to Australia. During the close season, George Cross, the Maltese club in Melbourne invited Zammit to join the club and he accepted.
The Cith fans were stunned but they really could not do anything but curse their bad luck. However, memories of this fine player still linger on among the City faithful.
John Darmanin was born in Vittoriosa on September 4, 1938. He started playing football while he attended the De La Salle collage at the age of 10. Later on John joined Vittoriosa Stars. During his spell with vittoriosa the club won promotion from 3rd to 2nd division and from 2nd to 1st division.
At the age of 17 he was chosen as a guest player with Sliema Wanderers during the FA Trophy. During this match John left a good impression and several top clubs showed interest in him. He chose Valletta F.C. and signed a contract with the club. He played for Valletta F.C. from 1958-1964. With the Lillywhites, Darmanin won three championships, Scicluna Cup vs Floriana and the Cassar Cup. John left Valletta F.C. in season 1964 and joined St. Georges FC, he won the first division championship with the club.
During his career John also played with Malta best 11, which was the National Team at those days. He also formed part of the National U/21 squad. During his coaching career John Darmanin coached St. Georges FC and Vittoriosa Stars FC.
Mario Bocchio
Prandelli durante il sopralluogo allo stadio Ta' Qali
In vista della sfida di questa sera contro Malta al Ct della nazionale Cesare Prandelli resta un dubbio di formazione: Giaccherini o Cerci?
L'allenatore degli Azzurri ha provato lunedì in allenamento il consolidato 4-3-1-2, con il bianconero nello stesso ruolo di incursore sperimentato giovedì a Ginevra contro il Brasile, ma anche il 4-3-3.
Se la scelta alla fine dovesse essere questa, fin dal primo minuto sarebbe schierato Cerci, che ha ben figurato nel secondo tempo contro i verdeoro. Il granata potrebbe comunque trovare spazio nel corso della ripresa, visto che Prandelli ha dimostrato di avere a disposizione una squadra che può tranquillamente cambiare modulo anche in corsa.
In attacco la coppia d'attacco sarà tutta rossonera, con Balotelli-El Shaarawy (il romanista Osvaldo è squalificato): è questa la scelta per la partita di qualificazione dell'Italia allo stadio di Ta'Qali. "Ma la formazione non la do – ha puntualizzato l'ex mister della Fiorentina – perché ho un dubbio tra Giaccherini e Cerci".
La pubblicità del match a Malta
"Sarà una partita semplice solo se saremo bravi a creare certi spazi, troveremo una squadra ben organizzata, che sa raddoppiare e intercettare – avverte Prandelli -. Malta è come una squadra di club, con giocatori che si allenano tre volte alla settimana".
Lo stesso Prandelli ha già individuato la prima, vera minaccia maltese per la sua nazionale: il vento. L'aereo degli Azzurri è infatti atterrato a La Valletta lunedì sera e subito le condizioni atmosferiche trovate dal gruppo sull'isola del cuore del Mediterraneo ha fatto storcere il naso al Ct.
"Questo forte maestrale non ci lascia tranquilli – ancora Prandelli -. Potrebbe far perdere la concentrazione ai giocatori che non sono abituati a scendere in campo in queste condizioni".
Parole di elogio poi per Ghedin, il tecnico italiano degli isolani: "Sta facendo un grande lavoro con la nazionale maltese, a Modena nell'andata evevo visto una squadra ben messa in campo e molto ordinata".
Buffon e il portiere maltese Hogg dopo la sfida dell'andata a Modena
Decisamente meno preoccupati Stephan El Shaarawy e Mario Balotelli. I due milanisti, oltre ad essere certi, come detto, di partire titolari, hanno infatti seguito nella cabina del pilota l'atterraggio del charter Alitalia che ospitava la truppa azzurra. "Fichissimo", si è lasciato sfuggire il Faraone al momento dell'arrivo all'aeroporto di Luqa. Il forte maestrale, tanto temuto da Prandelli, non ha complicato l'atterraggio del velivolo. Ma non ha inficiato il divertimento dei suoi due giovani attaccanti.
Infine, proprio nella sfida con Malta il portiere Buffon festeggerà le 126 presenze in azzurro. Per il numero uno della nostra nazionale sarà un risultato importante, visto che agguanterà Maldini al secondo posto della classifica delle presenze in azzurro. Davanti all'estremo difensore della Juventus resterà così solo Fabio Cannavaro, con 136 gettoni totali.
Classe 1978, Buffon ha esordito con la casacca azzurra a 19 anni, nella sfida Russia-Italia (1-1) del 29 ottobre 1997. Si è laureato Campione del mondo nel2006.
(mbocchio)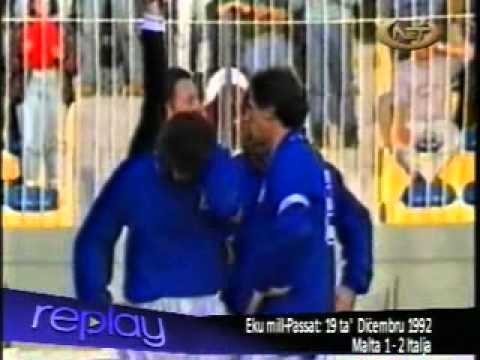 Malta-Italia 1-2, anno 1992. E' stato l'ultimo incontro degli Azzurri nell'Isola
L'11 ottobre 2006 la nazionale italiana, ancora ebbra del Mondiale tedesco e allenata da Roberto Donadoni, sbancava Tbilisi (3-1 alla Georgia) verso gli Europei ospitati da Austria e Svizzera nel 2008. Meno altisonante fu l'esito del Ta' Qali Stadium di Attard, 8 chilometri da La Valletta, teatro di Malta-Ungheria: il 2-1 finale, sigillato dalla doppia marcatura di André Schembri, rappresenta l'ultimo successo maltese in una gara di qualificazioni europee. Per l'occasione l'allora tecnico ceco Dušan Fitzel venne apostrofato "La Valette" in onore dell'eroe nazionale Jean de la Valette, protagonista della stoica resistenza all'assedio ottomano nel 1565. Quanto basta per inquadrare la portata dell'evento.
Una fame lunga 2700 giorni - Il digiuno dei Cavalieri di St John si protrae da quasi sette anni e mezzo, intervallo che rende significativo l'attuale 147° posto nel ranking Fifa. Ma da meno di 365 giorni al timone dell'ex avamposto britannico figura Pietro Ghedin, già vice di Cesare Maldini, Dino Zoff e Giovanni Trapattoni nelle rispettive gestioni azzurre. Un italiano che sogna lo sgambetto all'ItalPrandelli. Eppure la selezione mediterranea occupa l'ultimo posto del girone B desolatamente a 0 punti. Nulla di eclatante appurata la natura pressoché amatoriale del campionato maltese, torneo che coinvolge la quasi totalità del collettivo di Ghedin: ben sette convocati militano nel Valletta FC, leader in patria.
André Schembri
I cavalieri maltesi - I tesserati esotici rispondono ai nomi dell'André Schembri di cui sopra e del portiere Andrew Hogg (militanti a Cipro), di Etienne Barbara (emigrato negli Stati Uniti) e del difensore Andrei Agius, in forza al Latina in Lega Pro. Tra gli altri spicca Michael Mifsud, capitano e recordman di reti (36) in nazionale, 31enne rientrato nel paese natio ma distintosi con profitto in Germania, Norvegia e Inghilterra. Proprio Mifsud, insieme a Dimech, Schembri, Cohen e Sciberras, rappresentano i soli superstiti dello storico trionfo contro i magiari.
Débâcle a Sofia, si attendono gli azzurri - All'andata a Modena i biancorossi incassarono un onorevole 2-0, frutto di un 4-2-3-1 ordinato e organizzato (come ha rimarcato lo stesso Prandelli alla vigilia). Non altrettanto dignitoso lo 0-6 patito venerdì a Sofia, passivo inflitto dalla Bulgaria seconda forza del raggruppamento. Martedì l'occasione per rialzare la testa all'interno del Ta' Qali Stadium, impianto da 17.000 posti che (oltre al Valletta FC) ospita il Pietà Hotspurs FC. Un richiamo neppur troppo velato. Al resto ci penserà Pietro Ghedin, aspirante paladino maltese.
(mbocchio)
Il centrocampista della Roma e dell'Under 21 Alessandro Florenzi ha raggiunto il raduno azzurro a Coverciano e parteciperà alla sessione di test fisici in programma. Il giocatore è stato convocato dal ct Cesare Prandelli considerando la squalifica del compagno di squadra Osvaldo per la partita di martedì prossimo con Malta, valida per le qualificazioni ai Mondiali del 2014.
Si ferma Marchetti, piccolo trauma alla spalla destra - Lieve infortunio per Federico Marchetti, vice di Gigi Buffon, che ha abbandonato la seduta d'allenamento di Coverciano. Dopo i primi accertamenti sono escluse lesioni. Durante il lavoro specifico con il preparatore dei portieri, è stato costretto a interrompere l'allenamento e ha lasciato il campo, accompagnato dal responsabile dello staff medico azzurro, Enrico Castellacci. Lo stesso Castellacci ha però spiegato che il giocatore ha sentito un po' di dolore e quindi a livello precauzionale ha interrotto l'allenamento, ma non si dovrebbe trattare di nulla di grave: "Vediamo domani come va. Certamente non ci sono lesioni serie o gravi che possano farci pensare di mandare il ragazzo a casa. Ora sta discretamente, a livello precauzionale sta a riposo".
Partitella a ranghi misti - Prandelli ha schierato due formazioni così composte: in maglia blu Buffon, Maggio, Barzagli, Astori, Antonelli, Giaccherini, Montolivo, Poli, El Shaarawy, Gilardino e Candreva; in giallo: Sirigu, Abate, Ranocchia, Bonucci, De Sciglio, Diamanti, Pirlo, Marchisio, Cerci, Balotelli e Giovinco. L'ultimo aggregato al gruppo azzurro, Alessandro Florenzi, fungeva da 'jolly', giocando con entrambe le squadre in fase di possesso palla. In gol nel test Gilardino, Giovinco e Poli. Nella prima parte rosa azzurra divisa in due gruppi e lavoro tattico. Allenamento regolare per Marchisio, Abate e Cerci che hanno smaltito i rispettivi acciacchi. Domani a Coverciano in programma una doppia seduta di allenamento.
Prandelli: "Non sottovalutiamo Malta" – "Non ho in questo momento il pensiero al Mondiale ma alla partita di martedì contro Malta. L'errore che possiamo commettere è quello di sottovalutare l'avversario e considerare tutti questi complimenti ricevuti come fossero punti in classifica". Il ct della Nazionale, Cesare Prandelli, dopo la buona prestazione in amichevole contro il Brasile chiede all'Italia di rimanere concentrata per il match di qualificazione ai Mondiali contro Malta a La Valletta. "Tra martedì e la partita di giugno a Praga voglio fare sei punti – sottolinea il tecnico azzurro-. Questa Italia ha cambiato mentalità, ma siamo solo all'inizio. Sono convinto che se andiamo avanti così batteremo anche squadre che ci sembrano imbattibili. Troveremo una squadra più unita e compatta rispetto al Brasile- avverte Prandelli ricordando nel ritiro di Coverciano la vittoria per 2-0 nella gara disputata contro Malta lo scorso 11 settembre a Modena-, sono più organizzati anche se meno forti tecnicamente, si allenano da mesi e mesi come se fossero una squadra di club".
(rassegna stampa)
Commenting on Malta's World Cup qualifier against Bulgaria ahead of tomorrow's match Maltese national team boss Pietro Ghedin said it's going to be difficult for our team since Bulgaria 'have made giant positive steps and are doing quite well. Their quality is their team play built around physically strong players like Popov and Manolev. They are very young and grew a lot in the last four months.'
'I am very surprised about this team. But then again it's nice for us to play behind closed doors since they won't have the crowd behind them,' Ghedin said when asked if the empty stands might favour the Maltese.
Referring to tactics, Ghedin said that we have our own style of play and we will stick to it.
'We need to stay together and play for one another. I am making sure that we play as a team with everyone knowing what his role is. I am working a lot on this and I hope we have a good game,' our coach said.
Daniel Bogdanovic was equally hopeful that an empty stadium would give us a better chance. 'But then football is a funny game and there are many factors which could affect the game and the result, like the weather and pitch conditions.'
'The pitch is usually good. I have played here. I hope it will be a good game,' the Malta and Valletta forward said.
By contrast the Bulgarian coach Penev is setting his goals high as far as his team's qualification for Brazil is concerned.
'While I don't underestimate the Maltese we will approach the match with confidence. I am an optimist and therefore I set high goals for my players. Under no circumstances should we be satisfied with little. We should look for something bigger. So far I am happy with what my team has done,' the Bulgarian coach said.
(Malta Football Association)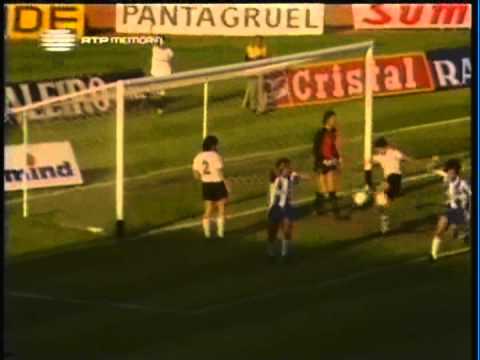 Porto-Rabat Ajax, 1986
Il Rabat Ajax Football Club è una società calcistica maltese, con sede a Rabat.
Il club è stato fondato nel 1930 come Rabat Rovers, 7 anni dopo si fuse con i Rabat Rangers e l'Old City diventando Zvanks. Un anno dopo il club prese il nome FC Rabat. Nel 1980 il club si fuse con l'Ajax e divenne Rabat Ajax FC.
Partendo dall'alto: il Rabat Ajax 1950-'51, 1984-'85 e 1985-'86
Nelle stagioni 1983-1984 e 1984-1985 partecipò alla Coppa UEFA, uscendo sempre al primo turno. In qualità di campione nazionale ottenne il diritto di partecipare alla Coppa dei Campioni, nelle stagioni 1985-1986 e 1986-1987 uscendo anche in questa competizione al primo turno.
Una sola stagione dopo, nel 1987-1988, la squadra retrocesse in Second Division.
Nelle stagioni successive ha giocato in First Division dal 1989-1990 al 1993-1994, dal 1995-1996 al 1996-1997, dal 1998-1999 al 2000-2001; per poi retrocedere fino in Fourth Division.
Nella stagione 2008-2009 ritornò in First Division, terminando al nono posto e retrocedendo nuovamente. Dopo una seconda risalita, al termine della stagione 2011-2012 ha conquistato, dopo undici anni di assenza, il ritorno in Premier League.
Filmato veramente interessante
In 1983-84 Rabat Ajax met Czechoslovak side Inter Bratislava in the UEFA, where following a 0-10 dumping at home, they also lost 0-6 in the return leg in Bratislava. The following year Rabat Ajax also played in the UEFA Cup, where it met Yugoslav side Partizan Belgrade, with whom it lost both matches with a 0-2 scoreline.
Rabat Ajax has played four qualification matches in the old UEFA Champions league competition. In 1985-86 they lost twice a 5-0 score against Cypriot side AC Omonia. In 1986-87 they were trounced 9-0 by eventual winners FC Porto at the Rio Ave stadium in Vila do Conde and 1-0 at home in Malta.
Carmel Busuttil
(tratto da "Times of Malta"  Wednesday, August 3, 2005 by Louis Azzopardi)
Twenty-five years have passed since Rabat Ajax FC changed name from Rabat FC.
During this span, I wonder if there has ever been any other club on the islands which has had as much mixed fortunes as those of the Magpies.
Rabat Ajax kicked off season 1980-81 in Division Two in great style. They won promotion and gave a clear indication that they had a team to compete with the best.
Rabat Ajax – 1984-85 season. (Standing) R. Scerri, M. Scicluna, I. Filipov, A. McGonigle, E. Cortis. (Squatting) M. Zahra, E. Azzopardi, C. Busuttil, E. Caruana, C. Scerri, J. Borg
The following season, they dominated the scene in Division One and finished undefeated champions and a clear eight points ahead of the second-placed team. Winning the KO competition completed the double.
Premier League football came back to Rabat and with a host of young, talented and exciting players, the fans were anticipating great things from their side.
After 17 long years, Rabat Ajax made their first appearance in top-flight football in 1982 and as expected by their loyal followers, they made their mark by finishing joint runners-up with Valletta behind Hamrun.
The same second spot in the league table was retained the following year and that proved that the results achieved the previous seasons were no flash in the pan.
However, the best was still to come the following two seasons as the additional of a couple of shrewd signings, the team was strengthened in no small measure.
'90-'91
In such a short time, Rabat won all the trophies at stake in the local game. The Premier League was won twice in succession, the FA Trophy was lifted for the first time ever while the Super Cup and the Euro Cup were both won twice. Indeed, a remarkable achievement.
Following this success and when every football lover on the island was talking about Rabat Ajax as being the team to beat, the most unexpected and baffling thing rocked the club.
Fielding most of the players who had won everything in sight, the following 1986-87 season proved to be the most disastrous. Against all odds, the Magpies suffered relegation to Division One. The fans were stunned and they had every right to be. The glorious days became suddenly a thing of the past.
Unrest crept within the club and the team was disintegrated with first team squad players leaving, either retiring or mostly transferred. A new era was to begin, but, unfortunately for the Magpies, things would never be the same again.
Nowadays, there is a feeling that the club has taken a seesaw route, with the team being relegated and promoted in the lower divisions almost on a regular basis. By falling down to Division Three last season, the club has now reached the lowest point in their long history, including that of Rabat FC.
'91-'92 and '92-'93
But, hopefully, with a few upcoming lads, there is no reason why they could not make their way back to the higher divisions.
Definitely, one stumbling block is a serious lack of finances which is hitting most clubs.
Although I believe that it will take some time before I can see my favourite team play top-flight football again, I hope and augur that Rabat Ajax will find their rightful place in the not too distant future.
During these last 25 years, Rabat Ajax played 521 competitive matches in 11 different categories winning 194; drawing 117; losing 210. Goals scored – 818; goals conceded – 890.
Rabat Ajax-Porto
The categories played were: League; Trophy/KO; Super Cup; Euro Cup; European Cup; UEFA Cup; Champions Pool decider; Championship Pool; Relegation Pool; Centenary Cup and Samaritani Cup.
Rabat Ajax played against 43 different teams since 1980 (number of games vs each team in brackets):
Attard (2); Balzan (5); Birkirkara (34); Dingli (7); Floriana (36); Ghaxaq (2); Gozo (9); Gudja (7); Gzira (4); Hamrun (36); Hibernians (40); Inter-Bratislava (2);
Kalkara (2); Lija (11); Marsa (11); Marsaxlokk (3); Melita (6); Mellieha (10); Mosta (14); Msida SJ (2); Mqabba (21); Naxxar (27); Omonia Nicosia (2); Partizan Belgrade (2); Pieta (15); Porto (2); Qormi (7); San Gwann (2); Senglea (9); Siggiewi (2); Sirens (3); Sliema (33); St Andrews (11); and
St George's (10); St Patrick (22); Sta Venera (2); Tarxien (10); Valletta (36); Vittoriosa (6); Xghajra (9); Zebbug (6); Zejtun (7); Zurrieq (34).
articolo a cura di/ report by Mario Bocchio